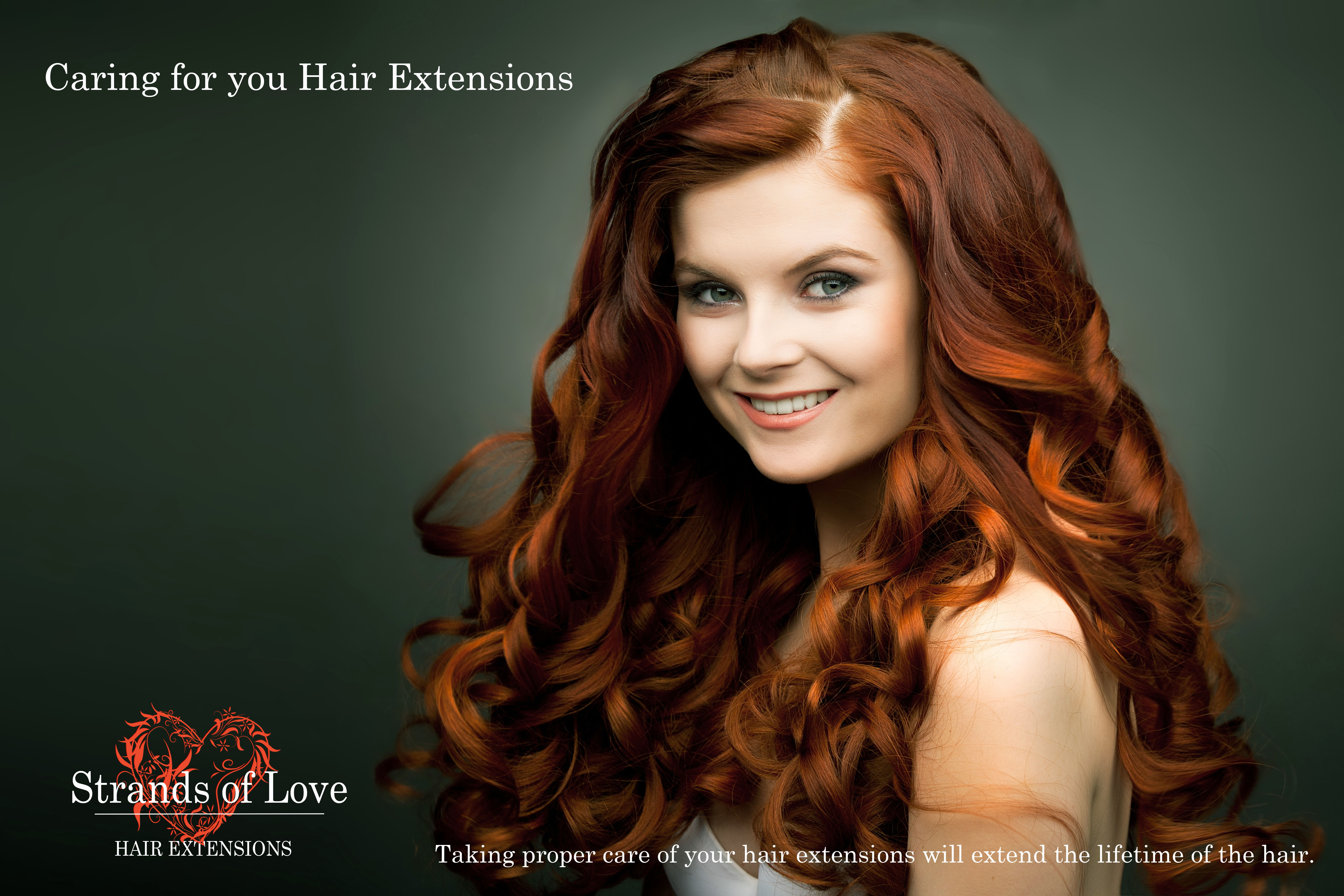 Maintenance:
Tips to help you get maximum time out of your extensions
When you go to your salon to install your hair extensions it is better to wash your hair with shampoo only and not conditioner or treatment products.
Do not to wash your hair within 48 hours after installation.
Brush your hair gently from root to tip twice a day with your hair extension brush. Make sure you brush over your keratin, micro ring or tape extensions to avoid knots forming against your roots. If you feel knots are starting to form, consult your stylist for advice. Keep in mind that knots can cause damage to your natural hair.
The hair products that you use are very important for your hair extensions to last. If possible, use sulphate free professional salon products. Cheaper products will dry or damage your extensions. Avoid products that contain protein, keratin, alcohol or harsh ingredients. Protein enriched hair products will also make your extensions feel dry. Consult your hairstylist for the best hair products for your hair extensions. Look for products that focus on 'Moisture' and 'Hydration'. If you feel that your extensions are starting to feel dry, immediately change your product, and go to your salon for a treatment. Continuing to use a specific product when you feel your extensions are becoming dry, will damage your extensions. Do keep in mind that in winter time, hair tends to feel more dry than in summer. Use products to keep your hair hydrated.
Hair extensions no longer get natural oils. Treat your extensions with argan/moroccon/ macadamia/coconut oils as well as a good hair treatment once or twice a week to keep your extensions from losing moisture.
Remember that our extensions are real human hair, therefor your extensions will need regular trims at your salon, as your own hair does. But be careful that your stylist does not cut off too much of your extensions.
Never cut extensions when wet. Extensions need to be dry before any cutting and layering are done.
The following products work well on our extenions: Sol Professional hair care range, Kardashian Beauty Rejuvenating Shampoo and Liquid Hydration Masque, Kerastase Bain Satin, Redken All Soft, Schwarzkopf Miracle Oil shampoo and conditioner, Joico Moisture shampoo and treatment balm, Loreal Mythic Oil shampoo and conditioner, Paul Mitchell Awapuhi Smooth shampoo and conditioner, .
Strands of Love highly recommends SoL Professional hair care range. SoL is developed for hair extensions. It contains natural ingredients, and is sulphate free, paraben free and ammonia free. SoL helps the hair againts feeling dry and matting and ensures healthy hair extensions for longer. For more information about SoL go to www.solhair.co.za. SoL is available at your nearest salon. If you can't find SoL, send a whatsapp to 0836198975 with your name and area and the words SOL REQUEST, and we will send you the name and contact details of the salon in your area.
Do not brush keratin or tape hair extensions when wet. Dry your extensions thoroughly after a wash. Doing otherwise can cause the keratin/tape to weaken and slide out over time. Never sleep with wet hair. Always dry your bonds or tapes thoroughly before tying hair up. If keratin or tape stays wet it will weaken and slide out.
If your tapes feel sticky, it would be for the following reasons: *Brushing tapes when your hair is still wet. *Sleeping with wet hair. *Using conditioner, treatments or oils on your scalp. *Not washing your hair often. (Your hair's natural oils can cause your tapes to slide and become sticky. Please wash your hair every 1-3 days, and make sure you also wash under and between every tape). *Installing tape extensions that was not cleaned properly. *Re-taping hair without washing the bond remover off properly.*Not cleaning the sticky residue from your natural hair when you come to you your salon for your extension maintenance. *Make sure your own hair and your extensions are cleaned properly before extensions is installed.
When drying your hair with a hairdryer, keep your head in an upright position to avoid tension on the hair follicle.
It is recommended to only style your hair when dry to avoid damage. Do not use heat directly on wet or damp hair extensions.
Use a heat protection on your hair when using heat to style your hair. Try to use cream based heat protectant.
Do not use heat from your styling tools directly on bonds or tapes to avoid breakdown or shedding of tapes.
SWIMMING: Chlorine water / salt water is not good for extensions. If you go swimming with your extensions, we recommend putting leave-in conditioner or nourishing hair oils on your extensions to seal the hair. Put the conditioner as close to the top tape or keratin/micro ring part as possible where knotting can occur. Immediately after swimming make sure you wash the chlorine or salt water from you extensions and sprayconditioner or rub oil in your extensions again. This should be done in order to protect the hair from drying out and knotting, to enure you get the maximum life out of your extensions. Avoid tying hair up when swimming. Do not tie wet hair up after swimming, but let your extensions dry naturally. Wet, tied up hair will cause your tapes to fall out.
Sleeping with your hair in a bun or plait is a MUST to keep your extensions from matting or damaging. Do not sleep with your hair loose.
Hair Extensions can be re-bonded every 2-3 months or as needed. Keeping extensions in for longer than 3 months can cause damage to your own hair.
Do not attempt to remove your extensions by anyone other than a professional.
Extensions last between 6-8 months, but with proper care and regular trims, can last longer. Remember that the most import thing to make your extensions last long are the products that you use on your hair. Choose your products wisely. Choose products that will moisturise your extensions to help them stay hydrated.
When purchasing your Strands of Love hair extensions please remember that we only exchange within 7 days, if the hair is in it's original condition and still in the packet. Remember, once installed the hair cannot be exchanged. No exchanges for custom orders. We have a no refund policy, so look after your hair with love and use the right hair products!
Please note:
*Strands of Love does not take resonsibility for hair extension installations, hair extension maintenance, hair cuts or colours done by salons, hair stylists or extensionsists. We are a supplier only.
We will send your the contact details of salons that are registered with Strands of Love that is based in your area, but are not held responsible for anything that the salons do, that you are not happy with. Eg cutting, colouring, installation and aftercare of hair extensions. Please talk to your salon/stylist first before you book an appointment, to make sure that he or she is the right stylist or salon for you.
Do keep in mind that slight colour changes of extensions might occur over time, as we supply real human hair that has been coloured according to our colour ring.
Custom orders can be placed when the salon chooses their own specific colours, piano-highlights, ombre's or longer/shorter hair lengths that is not part of the standard Strands of Love stock list. Please keep in mind that custom orders usually take 6-10 weeks to arrive from overseas. These orders can take longer over the festive season or due to the fact that the factory that has to hire someone to specifically to do this dyeing process on the hair, or due to the availability of raw hair material. We therefor ask that you place your custom orders at least 2 months in advance to ensure delivery is on time. We unfortunately have no control over the time frame for custom orders and therefor ask for your patience.
We pride ourselves that we have some of the best hair stylists in the country on our books. Keep in touch with your stylist if you have any concerns or even if you just want to compliment her on her service and great work! :-)
Thank you for choosing STRANDS OF LOVE!
Treat your extensions with LOVE ...and you will get the LOVE out of your hair!